"THE "HANGTHEBANKERS.COM" & "ALEX JONES - INFOWARS.COM":

THE OBAMA ADMINISTRATION HAS NOMINATED A TOP LEVEL GLOBALIST TO ACT AS VICE CHAIR OF THE FEDERAL RESERVE, THE PRIVATE BANKING CARTEL MASQUERADING AS A FEDERAL AGENCY. - ZAMBIAN-AMERICAN-ISRAELI ECONOMIST STANLEY FISCHER LEFT MEGA-BANK CITIGROUP TO HEAD UP ISRAEL'S CENTRAL BANK. HE IS THE FORMER NUMBER TWO HONCHO AT THE GLOBALIST LOAN SHARKING OPERATION, THE IMF, AND THE FORMER CHIEF ECONOMIST AT THE WORLD BANK.
Stanley Fischer Israeli banker and globalist
Stanley Fischer Israeli banker and globalist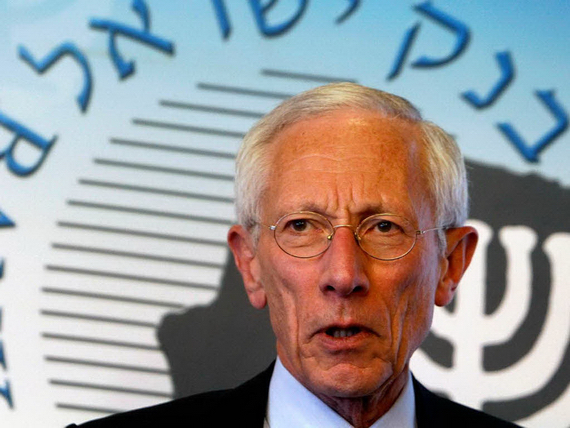 Stanley Fischer Israeli banker and globalist
"ALEX JONES - INFOWARS.COM"
Kurt Nimmo
Infowars.com
December 12, 2013
Israeli banker and globalist Stanley Fischer
"HANGTHEBANKERS.COM"
13 Dec 2013
by Clark Kent
Israeli banker and globalist Stanley Fischer
The Obama administration has nominated a top level globalist to act as vice chair of the Federal Reserve, the private banking cartel masquerading as a federal agency. If selected, he will replace Janet Yellen as Vice Chair of the Board of Governors of the Federal Reserve. Yellen is slotted to replace Ben Bernanke.
Zambian-American-Israeli economist Stanley Fischer left mega-bank Citigroup to head up Israel's central bank. He is the former number two honcho at the globalist loan sharking operation, the IMF, and the former chief economist at the World Bank. As an MIT economics prof Fischer tutored the current Fed boss, Ben "Helicopter" Bernanke and former Treasury Secretary Larry Summers. Fischer is a member of the influential Group of Thirty.
Obama was instructed over the summer by central banksters and establishment economists to nominate Fischer.
Stanley Fishcer is an ideal choice as number two at the Federal Reserve. He is a monetary "hawk" who will guide QE Infinity along its destructive path. His globalist credentials are sterling.
"Without the Fed, we'd have had a much deeper recession," he pontificated from a pedestal at the Wall Street Journal CEO Council meeting last month. "Without the extraordinary things that it's done, the economy would be in much worse shape today and we need to remember that."
Fischer with Israeli Prime Minister Benjamin Netanyahu
Stanley Fischer Israeli banker and globalist
Former Bank of Israel Governor Stanley Fischer may soon become the number two in command of the American economy via the Federal Reserve.
by Bob Johnson
It's being reported that after the Jewess Janet Yellen is made the leader of the Federal Reserve, Stanley Fischer will be put in Yellen's former position as number two of the Federal Reserve. Fischer was the Bank of Israel Governor from 2005 – 2013.
Fischer, obviously, is Jewish and is a Zionist. It's amazing that the second in command of the US economy would be someone with such deep and strong ties to a foreign power. Fischer holds duel citizenship of the US and Israel.
Fischer was also the First Deputy Managing Director of the International Monetary Fund and the Vice Chairman of Citigroup and the President of Citigroup International (here's an interesting article of how Citigroup officials worked with their buddies in the Federal Reserve to steal from the American tax payers during the last crash in 2008). Fischer also was the thesis adviser for the current Jewish Chairman of the Federal Reserve, Benjamin Shalom Bernanke, and for an economist who believes outsourcing American jobs to Communist China and other places is a great idea, Greg Mankiw (I'm not sure if Mankiw is also a member of the "chosen tribe" or not).
With Jews running the US economy through the Federal Reserve from 1987 through today and into the future, it's a good idea to know something about what Judaism teaches them. Especially in relation of how they should deal with Gentiles.
Stanley Fischer Israeli banker and globalist
The Hebrew Bible/Old Testament makes it clear that Hebrews/Jews should show mercy to fellow tribesmen and not show mercy to Gentile people. Deuteronomy 15 deals with finances directly. Verses 1 and 2 have the Hebrew/Jewish god instructing the Hebrews/Jews that are creditors that every seven years they shall release the debt fellow Hebrews/Jews owe to them. However, verse 3 instructs, "Of a foreigner thou mayest exact it again: but that which is thine with thy brother thine hand shall release." It doesn't bode well for a Gentile nation to have Jews who are taught these anti-Gentile teachings to be in authority positions in Gentile nations. It's just common sense that tells us this is a horrible idea with catastrophic consequences.
Even the Hebrew/Jewish jubilee is tinged with anti-Gentile hatred. The first part of Leviticus 25 is all about freeing slaves and forgiving debt. However, the too often overlooked anti-Gentile teachings in verses 44-46 make it very clear Gentile people are here strictly to serve Hebrews/Jews. These important verses read, "Both thy bondmen, and thy bondmaids, which thou shalt have, shall be of the heathen that are round about you; of them shall ye buy bondmen and bondmaids. Moreover of the children of the strangers that do sojourn among you, of them shall ye buy, and of their families that are with you, which they begat in your land: and they shall be your possession. And ye shall take them as an inheritance for your children after you, to inherit them for a possession; they shall be your bondmen for ever: but over your brethren the children of Israel, ye shall not rule one over another with rigour."
Do we really want people whose religion teaches them such open and cruel hatred for Gentiles that owning Gentiles and our children as slaves is a God-given right of the Hebrews/Jews running our economic system? Israel and Judaism are real threats to all Gentile people and to all people of goodwill (read the eBooklet The Danger of Israel for documented evidence that makes it clear what a profound and real threat they are to the world). The more power they have, the more danger we and our children are in.
A powerful weapon to dismantle the threat we face in Judaism and Israel, as well as in all "revealed"/hearsay religions, is Deism. The American founder and Deist, Thomas Paine, wrote in his powerful and enlightening book, The Age of Reason, The Complete Edition (for Kindle click here) that we need a revolution in religion based on our innate God-given reason and Deism. This will break the backs of Judaism and its offshoots and allow us to free ourselves and our children and grandchildren of the threat they hold over us.


Thursday, December 4, 2008
No matter who replaces Geithner, the Fed's hand of death will continue grabbing at our throats.
Stanley Fischer a dual U.S.-Israeli citizen
Bio
Forehead slap: Governor of Bank of Israel to replace Geithner
Last update - 04:26 03/12/2008
Stanley Fischer reportedly on shortlist to lead New York Fed
By TheMarker Staff and Reuters
Stanley Fischer, the governor of the Bank of Israel, is reportedly again a candidate to replace Timothy Geithner as president of the New York Federal Reserve Bank, according to media reports.
Geithner has been nominated for Treasury Secretary of the Barack Obama administration.
The New York Fed is the most important of the 12 regional Fed banks. The instuitution serves as the U.S. central bank's most direct link to Wall Street as well as its chief crisis manager.
The New York Fed is moving ahead with seeking a permanent replacement for Geithner, its chairman Stephen Friedman said last week.
Apart from Friedman, Geithner and Fed Chairman Ben Bernanke will likely have the most say in who is selected, economists said.
NB:
The Wall Street Journal on Tuesday included Fischer - a former MIT professor who supervised US Federal Reserve chief Ben Bernanke's doctoral thesis - on its short list of prospects to replace Timothy Geithner.
Geithner, who was named Treasury secretary last week by President-elect Barack Obama, is expected to leave his post in "the next several weeks," according to a statement from the New York Fed.
[Photo AP - Sebastian Scheiner]
Stanley Fischer exits the Ministry of Finance in Jerusalem
Sunday, December 05, 2010
21:03 | Posted by Shaul Hanuka
Shaul Hanuka
Crash jp Morgan Buy Silver Hebrew - stanley fischer
Stanley Fischer, the current Governor of the Bank of Israel, bought More Than 40 Billion US Dollars In the last 2 years, and brought the Israeli Foreign Currency Reserves to a whole times record of 70 Billion US Dollars. While Doing So The Bank Of Israel Didn't Buy One Ounce Of Gold OR Silver !!! According to Fischer, speaking with a sub comity at the Israeli parliament on 9/11/2010 Israel doesn't hold an ounce of gold since 1980.
Who is Stanley Fischer ?
from wikipedia:
"From January 1988 to August 1990 he was Vice President, Development Economics and Chief Economist at the World Bank. He then became the First Deputy Managing Director of the International Monetary Fund, from September 1994 until the end of August 2001. By the end of 2001 Dr. Fischer had joined the influential Washington-based financial advisory body, the Group of Thirty. After leaving the IMF, he served as Vice Chairman of Citigroup, President of Citigroup International, and Head of the Public Sector Client Group. Dr. Fischer worked at Citigroup from February, 2002 to April, 2005."
Ben Bernanke, received his Ph.D. in economics from the Massachusetts Institute of Technology in 1979. His thesis was named "Long-term commitments, dynamic optimization, and the business cycle" and his thesis adviser was Stanley Fischer.
So although Stanley Fischer is the current Governor of the Bank of Israel, the only thing on his mind is keeping the US Dollar in a strong position. Stanley Fischer doesn't only buy US Dollars. He also forbids Israeli banks buying precious metals ETF's. By doing so he puts the Israeli economy at risk, using it's entire economy as a pawn on the global market still ruled by his old bosses, The IMF, The World Bank and Citigroup.
Just like in the times of the first Jewish-Roman War, the governing elite of Israel, living at Caesarea, is serving the collapsing empire and it's interests on the back of the Israeli peasants. The only mean Israelis can us in order to save what capital they have is buying REAL silver and REAL gold. The minute the US Dollar will fall as it must, the NIS will fall with it dew to the astronomic pile of useless USD that is held by the Central Bank Of Israel.
Israelis, this is for your own good ! Buy Silver & Crash JP Morgan !!!
Shaul Hanuka
Masada wont fall again buy silver
Sack of jerusalem
OTHER SOURCES AND LINKS :
ΠΗΓΗ: